To say that TikTok is the new black, especially for Millennials and Zoomers, would be an understatement. This social media platform has gained unprecedented popularity over the last couple of years. In fact, the TikTok app has been downloaded and installed on devices more than 3 billion times around the globe.
Hands down, TikTok is changing our understanding of social media, content, and online communities. And one more thing TikTok has had a profound impact on is social media marketing.
Businesses are jumping on TikTok to ride the trend wave and promote their products and services to growing audiences. Yet, more often than they would like to, they fail. Why does it happen?
This is what we're going to talk about today. In this article, you'll learn why your TikTok marketing campaign is failing and what you can do about it.
Why Use TikTok for Your Marketing Campaign
But first, let's see why TikTok is a great social media platform for marketing.
Apart from being extremely popular, TikTok has a number of advantages marketers can leverage:
Engaged and dedicated online community. TikTok users are a mighty crowd – and a very active one, too. User time spent on the platform increased from 442 minutes per month in October 2019 to 858 minutes per month in March 2020. As of 2022, this figure is still growing. 32% of TikTok users spend more than 2 hours weekly on the app.
Diversity of content and user preferences. TikTok hosts truly miscellaneous creators and various types of content. The app prides itself on being a platform for free self-expression and acceptance. This makes TikTok a largely informal space where you can get as creative as you want with your marketing effort.
Authentic content discovery algorithms. TikTok algorithms are built in a way to give every piece of content the same opportunity to become popular and go viral even if you are not a well-known creator with many followers. It means that you can achieve rapid growth and scale your TikTok presence much more successfully than on other social media platforms.
TikTok ads. TikTok provides a wide variety of ad options, including In-feed ads, spark ads, TopViews, branded effect ads, etc. All of them allow for creative freedom in every type of marketing campaign.
Why Your TikTok Marketing Campaign Is Failing
If TikTok is such an open-minded social media space with so many opportunities for growth and reach, why is your TikTok marketing campaign not successful?
Let's take a look at the top 5 reasons why it might be happening.
Table of Contents:
You're not reaching your target audience
You're not tapping into the TikTok culture and philosophy
You're not leveraging hashtags
You're not collaborating with TikTok influencers
You're recycling/repurposing content from other social media
1. You're not reaching your target audience
Chances are, you are simply not connecting with the right audience that would be interested in your product or service.
For example, if you didn't conduct target audience research prior to launching your TikTok marketing campaign, you can't be sure your target users are sufficiently present on the app.
Consequently, your marketing effort will go right over the heads of most TikTok users because they do not reflect the right demographic for your brand.
How to deal with this problem
Analyze your target market when building your TikTok marketing strategy and see if your target audience is present on the platform.
Pay attention to such aspects as:
Gender;
Age;
Ethnicity;
Employment status;
Income, etc.
You can also work on determining your buyer persona – an abstract representation of your ideal customer. If this persona aligns with the audiences that use TikTok – you are on the right track. Otherwise, the platform might simply be not the right fit for your marketing campaign.
2. You're not tapping into the TikTok culture and philosophy
Even if you know that your target audience is present on TikTok, you might be failing to engage them. Why?
You're not leveraging the unique TikTok culture based on authenticity, engagement, and free self-expression.
For instance, your TikTok marketing campaign might be:
Too serious and business-like. TikTok is not the best place to demonstrate your rigid corporate style or traditional business approach to advertising or selling. Local users will perceive it as boring and stale – you'll totally miss the target;
Too polished and picture-perfect. TikTok audiences value authentic, honest, and raw content. If you edit your videos too much or create an unrealistic or unachievable vision of your product/service, it will feel superficial and fake to the TikTok users;
Too controversial. Remember that TikTok cares about its community and wants to provide a safe space for people to express their identity and talk openly about their personal struggles. If your marketing campaign comes across as controversial, insensitive, or offensive in any way, chances are it will fail on TikTok.
How to deal with this problem
First and foremost, stop taking yourself too seriously.
Here is what Norio Ichikawa, co-head of Creative Lab at TikTok Japan, says about the essence of the app:
"Our community wants to show its real self and does not care about a few flaws being exposed. It is raw, authentic, creative self-expression. In other platforms, there is editing and colour correcting – it is so perfect, it doesn't feel real."
The point is: instead of being too serious, unleash your quirkiness, humor, and creativity in your TikTok marketing campaign!
To resonate with the local TikTok audiences, the best path to take is to tap into the comedy content. Comedy sketches, challenges, pranks, and other similar types of marketing content go viral quickly – think the Egypt cat dance video – and you can expand your reach and literally make your brand popular overnight.
For reference, the top-3 trending TikTok content categories based on popular hashtags are:
Entertainment. It has over 530 billion hashtag views;
Dance. This category is probably the fastest growing one with more than 180 billion views;
Pranks. Pranks close the top-3 list with 79 billion views.
So if you don't want your TikTok marketing campaign to fail, be sure to create marketing content in line with the platform's idea of fun, free self-expression, and authenticity spiced up with a bit of humor.
For instance, take a look at how Duolingo uses comedy and popular TikTok trends to promote their app:
3. You're not leveraging hashtags
Hashtags are no less important to TikTok marketing than to such social media as Twitter or Instagram. If you don't use TikTok hashtags, you will lower the discoverability of your marketing content.
Besides, even if you do use hashtags, you might be failing to grow your reach at a desirable pace. It happens when you only use generic hashtags, such as the overwhelmingly present #entertainment or #fun. Your content will simply get lost among thousands of other TikTok videos.
Another mistake you might be making is not researching currently trending TikTok hashtags. If you combine a variety of hashtags to accompany your brand marketing videos but they are not currently popular with the users, it won't help your campaign gain visibility.
As a result, you don't create enough audience engagement with your marketing videos. This slows down your TikTok conversions, which, of course, negatively affects your sales success.
How to deal with this problem
Learn to leverage TikTok hashtags to increase your marketing content reach.
You can do it by following a few simple steps:
Do your research on relevant hashtags. Use the TikTok Discover tab to see the trending hashtags. You can filter them through different topics to get more precise results. Add these hashtags to your posts to increase your chances of going viral;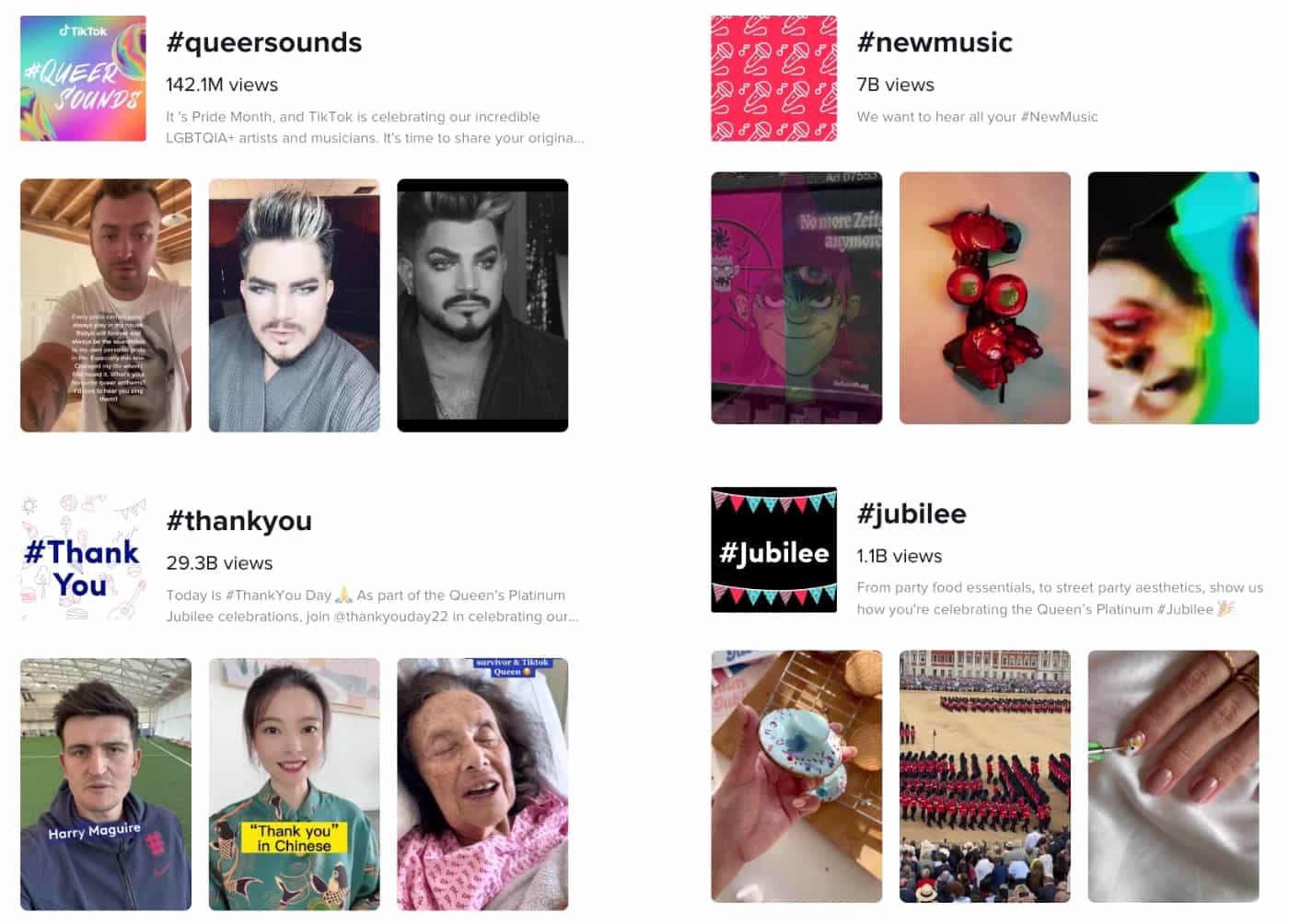 Create your unique branded hashtag to include in your marketing content. It can accompany all your posts – this way, TikTok users will be able to fond your content easily;
Start a TikTok branded hashtag challenge. Make it simple: ask your followers to post selfies with your product, create a dance video, or complete a simple task. TikTok users take on these challenges with great enthusiasm while promoting your brand in an organic way. With the help of branded hashtag challenges, you will also foster community building around your brand. For example, take your cue from a viral E.L.F Cosmetics #eyeslipsface branded hashtag challenge:
4. You're not collaborating with TikTok influencers
Suppose you're doing everything by the book – you know your target audience, understand and leverage TikTok philosophy, and use hashtags to increase the discoverability of your posts.
And yet, your TikTok marketing campaign is still stagnating. You're not increasing your follower count, your engagement rates are not growing fast enough, and your conversion rate is still pretty low. Why might that be?
Chances are, you're not succeeding because you ignore one major aspect of TikTok marketing (and a huge part of the TikTok community) – influencers.
If your TikTok marketing campaign is your first marketing effort on the platform, you can rarely get the reach and popularity you want without influencers. They leverage their loyal follower communities to set trends and promote brands, products, and services. And TikTok users trust influencers much more than brands with glossy ad campaigns.
How to deal with this problem
You already know the answer – start collaborating with TikTok influencers!
The trick is to find the right influencer for the job. Not every TikTok influencer is the perfect fit for your brand, so consider their niche, follower count, content type, and style before you decide to reach out to them and offer to promote your brand. The right influencer will create an ideal creative promotion strategy that will resonate with their audience and make your product/service desirable for them.
Pro-tip: the most important KPI for a TikTok influencer is their engagement rate. The higher the rate, the more people interact with their content. By choosing an influencer with a solid engagement rate you'll be sure their audiences will convert into customers more actively.
You can use the TikTok engagement calculator to check your chosen influencers.
It is also useful to decide on the type/format of TikTok influencer marketing collaboration in advance. How do you want to involve the influencer? What kind of posts will they create for your brand?
Popular TikTok influencer campaign types include:
Paid partnerships. For example, leverage influencer content in your ads – it will look more authentic and non-invasive than traditional ads;
Product reviews. You can send your product to the influencer for a review – they will post it on TikTok and tell their followers about their experience in an organic, funny, and engaging way;
TikTok profile influencer takeovers. You can simply let the influencer take over your TikTok feed for a day or several days and let them post content on behalf of your brand. Their audiences will flow onto your profile and get engaged with your brand.
Whichever type of TikTok influencer marketing campaign you choose – this is a great way to increase brand awareness and up your TikTok marketing game in general.
5. You're recycling/repurposing content from other social media
This is another mistake many marketers make when they hop on TikTok, especially if they market on more than one social media platform.
It might be tempting to just take the content you've already created for, say, Instagram, and repurpose it for TikTok. But trust us when we say this attempt at saving some time and resources is not worth it. Different platforms focus on different content formats and user preferences, so don't try to create a one-size-fits-all type of marketing strategy here.
TikTok, as we've already mentioned, is a social media where content authenticity is one of the pillars of the app's philosophy. **If you recycle older content, users will see right through it and perceive your marketing posts as lazy and outdated **– and they will be right.
How to deal with this problem
Invest time and effort in creating unique content made to cater specifically to TikTok users. You can take the core concept and visual elements from your older content created for other social media – no question. However, make sure to adjust those to the trends and preferences of the TikTok online audiences.
Short dynamic videos with the elements of comedy and trendy audios for background music are still the most universal recipe for relevant TikTok marketing content.
Conclusion
Now you're aware of the top 5 mistakes that don't let your TikTok marketing campaign succeed. They are:
not reaching your target audience;
failing to tap into the TikTok content culture;
not using hashtags properly;
overlooking the power of TikTok influencers;
and repurposing older content.
Use the tips from this article to address these mistakes and prevent your TikTok marketing campaign from failing. If you leverage the platform's philosophy, features, and user preferences right, you can effectively promote your brand and grow your business.